May 13, 19 by Staff Writer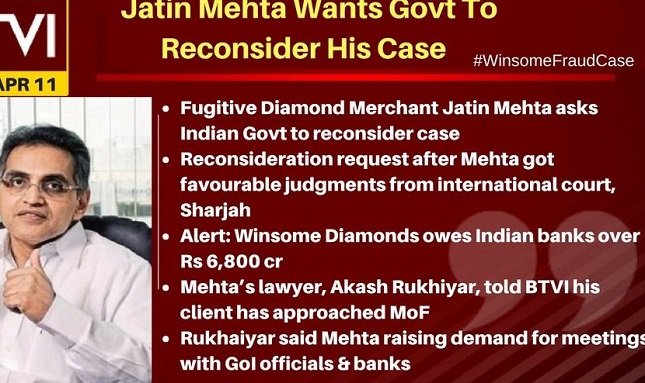 The online publication FirstPost reported earlier this month that India's Central Bureau of Investigation (CBI) had registered "a fresh case against absconding diamantaire Jatin Mehta, Winsome Diamonds and Jewellery and a Jordanian Hathyam Salman Ali Obaidah for allegedly cheating Bank of India for Rs 82.55 crore [approx. $12 million]." During the past years, CBI filed at least six other federal investigation cases against Jatin Mehta, all pertaining to alleged bank frauds.
The new investigation involves Winsome Diamonds and Jewellery, the then Director of the company Jatin Mehta, a Jordanian Hathyam Salman Ali Abu Obeidah, Forever Diamonds and "unidentified officials of Bank of India." The latter, unnamed, employees of the Bank of India are suspected to have allowed Winsome a working capital limit of Rs 96 crore [approx. $13.5 million] to the company in January 2013.
Winsome had purchased gold from bullion banks abroad - reportedly the Bank of Nova Scotia, Standard Bank PLC London and Standard Chartered Bank - on the basis of the loan against a Standby Letter of Credit (SBLC) issued by Bank of India.
Since its establishment 65 years ago, the CBI has emerged as a premier investigating agency of the country which, according to its website, "enjoys the trust of the people, Parliament, Judiciary and the Government. In the last 65 years, the organisation has evolved from an anti corruption agency to a multi faceted, multi disciplinary central police law enforcement agency with capability, credibility and legal mandate to investigate and prosecute offences anywhere in India."