May 02, 19 by Ya'akov Almor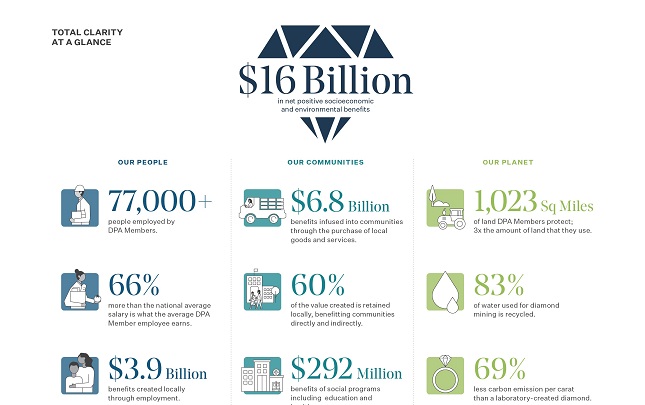 The Diamond Producers Association (DPA), released a research report, entitled The Socioeconomic and Environmental Impact of Large-Scale Diamond Mining, on the socioeconomic and environmental benefits and impacts on local communities, employees and the environment by the mining activities of its own members.
DPA Members generate more than US$16 billion in net socioeconomic and environmental benefits through their diamond mining operations. The vast majority of these benefits are infused into communities through local employment, sourcing of goods and services, taxes and royalties, social programs and infrastructure investment. DPA Members pay employees and contractors on average 66 percent above national average salaries and that companies focus extensively on employee training to ensure a highly-skilled workforce.
The DPA says it has organized active collaboration and sharing of best practices among its members around two absolute priority areas: energy conservation and CO2e emissions, as well as employee health and safety. Moving forward, the DPA will report on ongoing sustainability progress to share individual and collective progress made by its members toward these objectives and, in general, toward achieving the United Nations Sustainable Development Goals.
The DPA members are: ALROSA, De Beers Group, Dominion Diamond Mines, Lucara Diamond Corp., Murowa Diamonds, Petra Diamonds and Rio Tinto. Together, they employ more than 77,000 individuals.  DPA members operate mines in Botswana, Russia, Canada, Namibia, South Africa, Lesotho, Australia, Zimbabwe and Tanzania. ...