HTTP/2 200 date: Thu, 14 Mar 2019 20:00:04 GMT content-type: text/html; charset=utf-8 set-cookie: __cfduid=d068db682865294d016597bdc61f2746b1552593604; expires=Fri, 13-Mar-20 20:00:04 GMT; path=/; domain=.www.bloombergquint.com; HttpOnly; Secure cf-cache-status: HIT cache-control: public,max-age=15 cf-ray: 4b78d4ed4806ca69-YUL access-control-allow-origin: * etag: W/"2f3ac-91nysBsnMzIx4e09YIuZ/89/sNM" expect-ct: max-age=604800, report-uri="https://report-uri.cloudflare.com/cdn-cgi/beacon/expect-ct" link: ; rel=preload; as=script; link: ?path=%2Fpursuits%2Fthe-u-s-now-has-more-millionaires-than-sweden-has-people>; rel=preload; as=fetch; vary: Accept-Encoding x-powered-by: Express server: cloudflare Millionaires: The U.S. Now Has More Millionaires Than Sweden Has People
Read more at: "+document.location.href+"[1]
Copyright © BloombergQuint"; var copytext = selection.toString().substring(0,400) + pagelink; var newdiv = document.createElement('div'); newdiv.style.position='absolute'; newdiv.style.left='-99999px'; body_element.appendChild(newdiv); newdiv.innerHTML = copytext; selection.selectAllChildren(newdiv); window.setTimeout(function() { body_element.removeChild(newdiv); }, 0); } document.oncopy = addLinkToCopy;
(Bloomberg) -- The number of wealthy households in the U.S. reached a new high last year, roughly equivalent to the entire population of Sweden or Portugal.
More than 10.2 million households had a net worth of $1 million to $5 million, not including the value of their primary residence, according to a survey by the Spectrem Group. That's up 2.5 percent from 2017.
Even as the ranks of the mass affluent grew, the pace slowed because of "weakening global economic growth and a contentious U.S. political environment," said Spectrem Group President George Walper.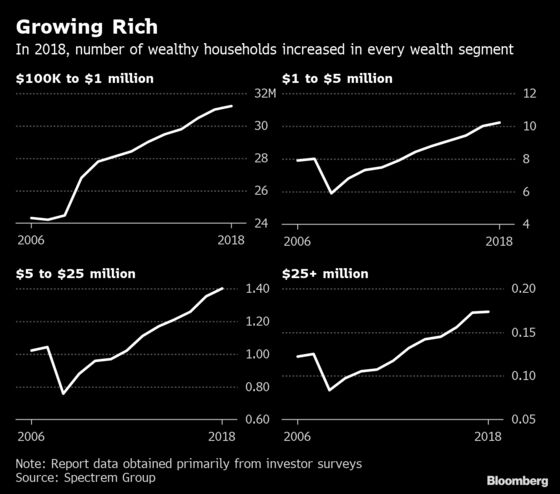 Ultra-high net worth households -- those with assets between $5 million and $25 million -- increased 3.7 percent to about 1.4 million in number, while those in excess of $25 million grew by about 0.6 percent to 173,000,...