During the selloff in December, the BOJ shed $31 billion, but in January it piled on.
Total assets on the Bank of Japan's mammoth balance sheet, after a drop of ¥3.4 trillion ($31 billion) in December, rose by ¥4.8 trillion ($44 billion) in January, to ¥557 trillion ($5.1 trillion), the BOJ reported[1] this morning. This shows two things:
One: The balance sheet is now 101.5% of Japan's nominal GDP (¥549 trillion, not adjusted for inflation), which makes it over five times as large in terms of the economy as the Fed's $4-trillion balance sheet, amounting to 19.6% of US nominal GDP ($20.6 trillion). This is how crazy the situation at the BOJ has become:
Two: The BOJ is now proceeding with its QQE – "quantitative and qualitative easing," as it calls this monster – in a special sort of dance: Two steps forward, one step back – increasing its balance sheet two months in a row, then in the third month unwinding about one-third of the increase of the prior two months.
This dance series started in December 2017[2]. December 2018 had been the fifth step back. And January was the next step forward. Among QE-besotted central banks, this dance is unique. This chart shows the month-to-month changes of the balance sheet. Note that the December "step back" was maintained despite the selloff in the markets: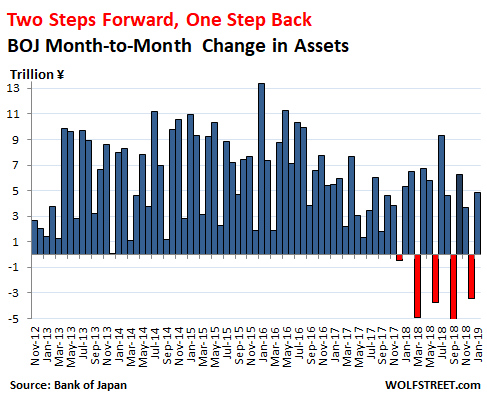 The above chart shows that last December, the BOJ cut its balance sheet by ¥3.4 trillion ($31 billion), a larger cut than the Fed's QE unwind in December[3] ($28 billion). In September, the BOJ chopped its balance sheet by ¥5.4 trillion ($49 billion), larger than the Fed's...