December 05, 18 by Albert Robinson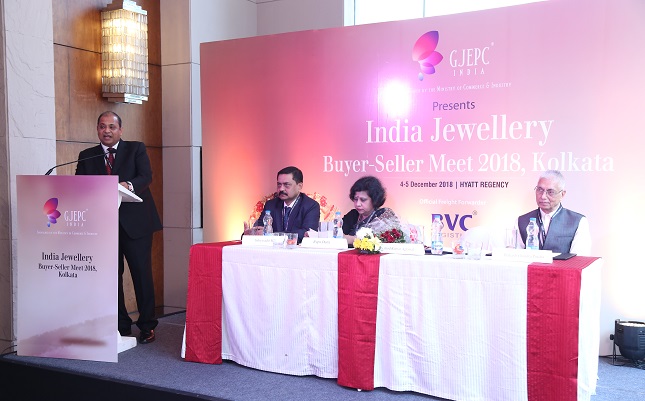 (IDEX Online) – The Gem and Jewellery Export Promotion Council (GJEPC) organized a two-day India Jewellery Buyer-Seller Meet on December 4 and 5 in Kolkata for leading jewelers from participating countries such as Bangladesh, Bahrain, Kuwait, Malaysia, Singapore, UAE, UK and USA. <?xml:namespace prefix = "o" ns = "urn:schemas-microsoft-com:office:office" /?>
The GJEPC said the initiative aimed to offer a gateway to a huge potential market and boost investment and trade opportunities.
The objective of the first-ever trade meet at Kolkata was to invite key business decision-makers and arrange one-on-one meetings with 24 prominent Indian jewelry manufacturers showcasing plain gold crafted jewelry and studded jewelry in an effort to develop new trust and understanding at a cultural, business & professional level and to explore future business opportunities, the GJEPC said in a statement.
Addressing the gathering, Smt Rupa Dutta, Economic Advisor at the Ministry of Commerce and Industry, said, "The gems and jewelry sector forms a very important part of our exports basket, it's over 14-16 percent of our export basket. It is a priority sector for the government of India. A number of measures have been taken by the government which includes improving ease of doing business. We would like to specially emphasize that the government has been specially nurturing the gems and jewelry sector due to its high employability. The Eastern part of India especially Bengal, contributes to the Indian jewelry eco-system, as a large number of jewelry workers who are known for their skill, especially for the handmade jewelry designs are from Bengal."
GJEPC Chairman Pramod Agrawal said, "In the recent past the government has taken major steps to ease...