December 04, 18 by Albert Robinson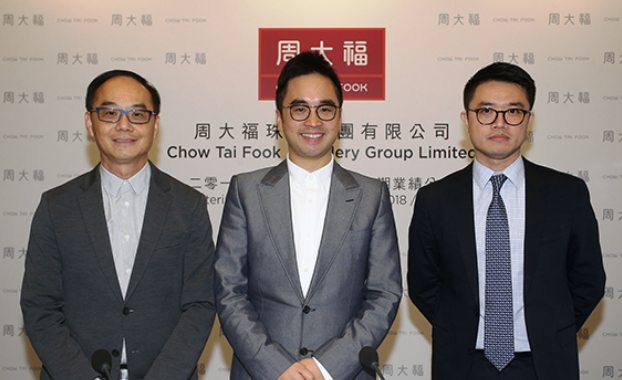 (IDEX Online) – Chow Tai Fook Jewellery Group Limited posted a 20% increase on the year in revenue to HK$29.7 billion ($3.8 billion) in its interim results for the six months ended 30 September. <?xml:namespace prefix = "o" ns = "urn:schemas-microsoft-com:office:office" /?>
The jeweler said the results were due to stabilizing consumer demand and reviving Mainland [China] visitation which fuelled the jewelry market.
Profit increased by 8.8% to HK$1.94 billion ($248 million) due to renminbi depreciation.
The jewelry retail landscape exhibited positive momentum in Greater China during the period, thanks to steady economic recovery and improving consumer sentiment. The Group's operations in Hong Kong and Macau grew robustly in 1HFY2019 due to reviving local consumer consumption demand and recovering tourism from Mainland China.
Same store sales growth in Hong Kong and Macau soared by 24.4% during the period. In Mainland China, same store sales rose by 4.9% in the period.
In Mainland China, in order to gauge market potential in lower tier cities and shopping malls, there were 233 net openings in the period reaching 2,682 stores, while the retail network footprint remained stable at 99 in Hong Kong and Macau as at 30 September 2018.
During the period, the Group also opened 4 points of sale in other markets, including Korea, Japan, Malaysia and Singapore.
"The Group's robust sales growth in 1HFY2019 is a testament to both improving consumer sentiment and the continued efforts in executing the strategic priorities," the firm said. "Nevertheless, such growth momentum is expected to be moderated in 2HFY2019, as the escalating comparison base, rising US-China trade tensions and...