November 29, 18 by Albert Robinson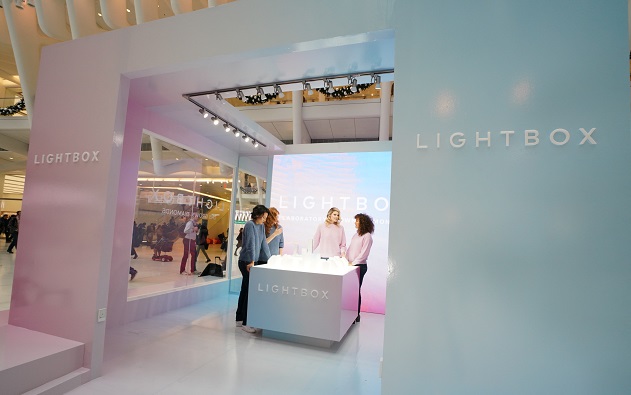 (IDEX Online) – Lightbox, the De Beers Group laboratory-grown diamond jewelry company, kicked off Cyber Week with the opening of its first pop-up store at The Oculus, Westfield World Trade Center on Monday. <?xml:namespace prefix = "o" ns = "urn:schemas-microsoft-com:office:office" /?>
Lightbox General Manager Steve Coe and Head of Marketing Sally Morrison were joined by models from the brand's advertising campaign for a lighting ceremony.
For Cyber Week, shoppers will have the opportunity to view the launch collection from Lightbox (currently only available online) featuring pendants and stud earrings set with pink, pale blue and white lab-grown diamonds.
The jewelry is set in either silver or rose gold and Lightbox's easy-to-understand linear pricing model is highlighted within the space. Prices start at just $200 for a quarter carat and range up to $800 for one-carat total weight, plus the cost of the setting.
Visitors to the pop-up can try on jewelry from the collection. Brand ambassadors are on hand to facilitate online orders through the Lightbox website and all orders placed at the pop-up will receive free expedited shipping. The pop-up structure also features an interactive selfie video wall where visitors can share a moment....