October 30, 18 by Staff Reporter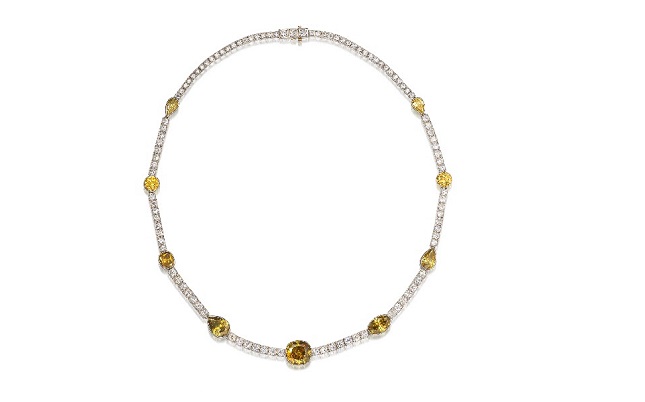 (IDEX Online) – Bonhams said that a set of Chameleon diamonds will be auctioned at its Rare Jewels and Jadeite sale in Hong Kong on 25 November. <?xml:namespace prefix = "o" ns = "urn:schemas-microsoft-com:office:office" /?>
A diamond necklace (pictured above) featuring nine Chameleon diamonds weighing 13.87 carats is expected to fetch between HK$1,600,000 and HK$3,000,000 ($200,000-$380,000).
"Chameleon diamonds are amongst the rarest and most mysterious of colored diamonds," said Graeme Thompson, Bonhams Asia Director of Jewellery. "Depending on temperature and light conditions, the diamond's color transforms from "olive" green to a mesmerizing brownish yellow or yellow.
"Due to their rarity, little gemological information exists on Chameleon diamonds and scientists have yet to confirm the mechanism that causes their color-changing behavior," he added.
The Hong Kong sale also features a range of diamonds, colored gemstones, and signed jewelry. There are more than 150 lots in total, ranging from a cultured pearl and diamond necklace to a jade bangle.
Colored Diamonds
In addition to the Chameleon diamonds, Bonhams will present a selection of rare colored diamonds, including an intense blue, three green diamonds, a 7 carat faint pink, and a collection of vivid yellows.
Highlights include:...
A 1.45 carat natural fancy intense blue diamond ring
A 5.64 carat natural fancy vivid yellow internally flawless emerald cut diamond ring by Cartier
A 3.15 carat natural fancy intense yellowish green diamond ring
A 1.51 carat natural fancy intense pinkish purple diamond ring
A 1.24 carat natural fancy intense green diamond ring