October 28, 18 by Albert Robinson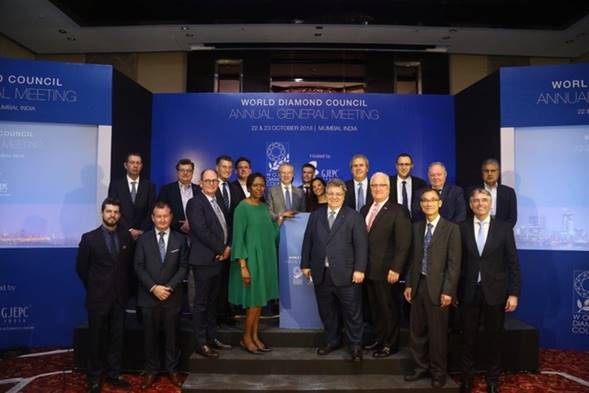 (IDEX Online) – The World Diamond Council (WDC) held its 14th Annual General Meeting (AGM) in Mumbai, reaching consensus on critical areas of reform for both the Kimberley Process and the WDC System of Warranties (SoW). <?xml:namespace prefix = "o" ns = "urn:schemas-microsoft-com:office:office" /?>
Resolutions for further improvement of a responsible supply chain and enhanced self-regulation exercise within the WDC System of Warranties (SoW) Guidelines were passed, the WDC said in a statement. "A Board- instructed strategic planning committee will develop a member's toolkit to help in the implementation of the guidelines respecting the realities and practicalities of the diamond supply chain. These guidelines will introduce the strongest level of adherence to date for SoW statement users, requiring adherence to universally accepted principles on human and labor rights, anticorruption and anti-money laundering in support of mandatory Kimberley Process Certification Scheme (KPCS) implementation and including the inclusion of OECD due diligence guidelines. Changes will be implemented on an ongoing basis and will be included in the upcoming 2021-2025 WDC Strategic Plan.
"WDC Board members also re-affirmed their continued commitment to KP reform with agreement to push forward on an expanded definition of conflict diamonds to address human security and environmental concerns. Other KP reforms agreed were for a permanent secretariat and strengthening of the peer review mechanism, both of which Administrative Decisions have been respectively submitted to the KP Chair for discussions and vote at the upcoming KP Plenary next month. Board members also agreed to support the other KP reform items, such as the review of the Core document and multi-stakeholder fund which would focus on capacity building."
The WDC Board meeting included the appointment of Edward Asscher...