August 27, 18
by Albert Robinson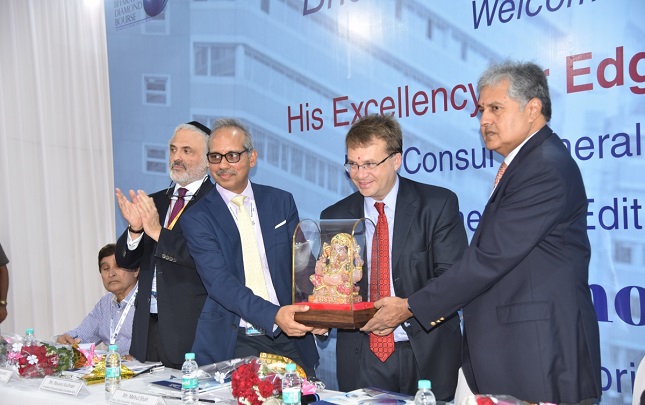 (IDEX Online) – The Bharat Diamond Bourse (BDB) in Mumbai said visitors to the second edition of the Bharat Diamond Week at the bourse, to take place from October 8-10, will benefit from competitive pre-Diwali prices. <?xml:namespace prefix = "o" ns = "urn:schemas-microsoft-com:office:office" /?>
The BDB is expanding the scale of the polished diamond fair following the success of the first edition held from April 23-25 (see picture above) where in excess of 1,000 visitors from India a
nd across the world did business with 100 Indian exhibitors of polished goods.
Bharat Diamond Bourse Vice-President Mehul Shah, who heads the Bharat Diamond Week project, said: "Since India is a huge manufacturing hub and the show is being held before Diwali, that means prices will be very competitive. Those buyers looking for pre-Diwali bargains will find it a highly attractive time to visit the show. With the Diwali festival starting in the beginning of November, traders will be looking to sell goods ahead of the closure of business for the holiday."
BDB President Anoop Mehta said: "India is the manufacturing hub of the diamond world, so visiting the Bharat Diamond Week gives access to a complete range of inventory which you simply don't see at other shows. I can say with total confidence that the show has many exhibitors who don't participate in any other trade fairs so clients will have access to a whole new world of suppliers."
Mehta said that the team working on the show are putting in place changes learned at the first edition of the fair held in April. "Our aim is to create optimum conditions for our many...