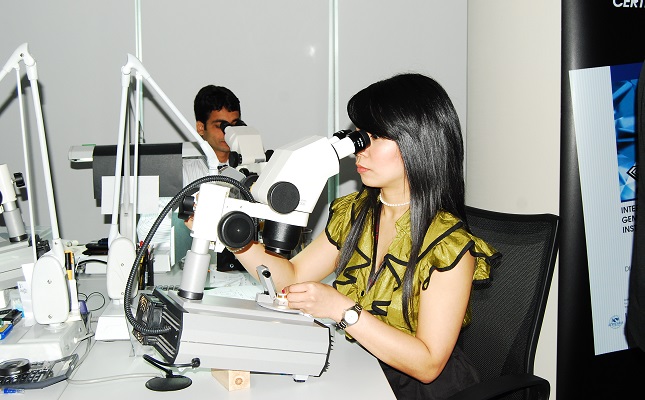 (IDEX Online) – The International Gemological Institute (IGI) has opened a new School of Gemology, which will operate out of Laxmi Tower, a wing at the Bandra Kurla Complex in Mumbai. <?xml:namespace prefix = "o" ns = "urn:schemas-microsoft-com:office:office" /?>
...
The opening ceremony was attended by the Honorary Consul General of Belgium in Mumbai, Peter Huyghebaert, who was the chief guest at the event, along with Colin Shah, Vice Chairman, GJEPC; Mehul Shah, VP, Bharat Diamond Bourse; Shailesh Sangani, Convenor of the Exhibitions Sub-Committee of the GJEPC; Milan Parikh, Mahendra Brothers; Ghanshyam Dholakia, Hari Krishna Exports; Rajesh Lakhani, Kiran Gems and Ashraf Motiwala from A.S. Motiwala.
"IGI's School of Gemology has been an integral part of the Institute's pursuit to empower the gemstone and jewelry industry. The newly established facility is poised to help students work more effectively in terms of technology and support, which will enable them to pursue their creative calling. The new premise is a sprawling 5,000 square foot space with classrooms that have been named Heera, Neelam, Panna and Manek, which are the Indian names for Diamond, Blue Sapphire, Emerald and Ruby, respectively. The jewelry designing room is named Aakaar, which means 'design o
r form'."
"Selling a diamond is becoming increasingly complex as this industry is facing challenges from other luxury industries," Huyghebaert told students at the ceremony. "In this scenario, IGI's School of Gemology is exactly what we need right now – its offerings will prepare you to face this myriad of challenges."
The IGI School of Gemology provides a wide range of courses from Polished Diamond programs to Jewelry Business Management graduate courses.