We already know who.
Inflation "looks quite good," Chicago Fed President Charles Evans said so eloquently in an interview[1] even before today's Consumer Price Index was released.
Today, by his standards, inflation looks even better. In June, the Consumer Price Index for all urban consumers rose a brisk 2.9% compared to a year ago, the sharpest increase since February 2012::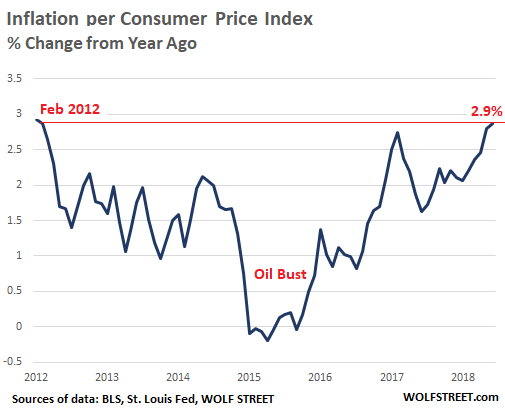 Without the volatile food and energy groups, which weigh about 21% in the index, "core" CPI rose 2.2% in June compared to a year ago.
And the purchasing power of the dollar – which the Bureau of Labor Statistics also provides as a helpful reminder of what consumer price inflation actually is – dropped 2.7% from a year ago. In May and June, the dollar's purchasing power reached, as it just about always does, a new record low. The chart below shows what the purchasing power of the dollar has been doing over the past decade: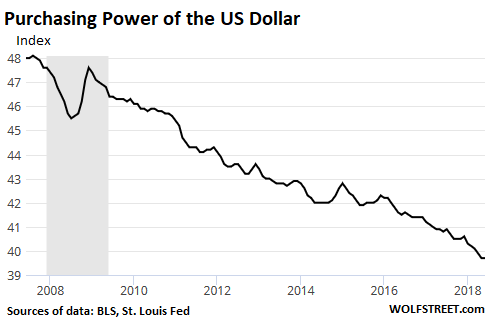 Inflation is good for companies and landlords because it means they're raising prices and rents, and they can report higher revenues without having sold a single extra thing. Their input costs may also rise, but they're hoping that those increases will be less, and that in this manner, inflation will inflate their earnings. For that reason, they and their Wall Street hype jockeys love consumer price inflation. But they hate wage inflation because it eats into the hard-earned inflation profits. And the Fed has been trying to help out.
So the question arises: Who is paying for this inflation that the Fed has been strenuously trying to obtain over the last few years and that it now has obtained to the satisfaction of even its doves, such as aforementioned Mr. Evans?
...