July 11, 18
by Staff Reporter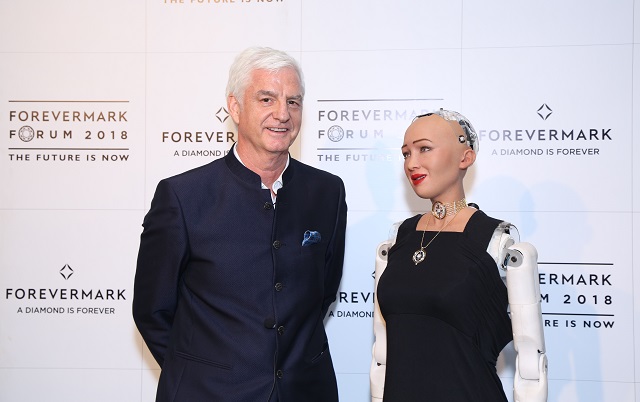 (IDEX Online) – The 7th edition of the Forevermark Forum took place this week in Delhi, with the highlight being the presence of "Sophia", an advanced social humanoid robot developed by Hong Kong-based company Hanson Robotics.
The Forevermark meeting provides a platform for partners to interact, transact and gain a new perspective on Forevermark's growth in the context of events within and outside the industry.
 
Sophia, modeled after actress Audrey Hepburn, is known for her human-like appearance and behavior compared to previous robotic variants. Sophia expressed her ability to participate in the whole process of selecting a Forevermark diamond and identifying its characteristics with Stephen Lussier, CEO Forevermark and Sachin Jain, President, Forevermark. A first for any Artificial Intelligence!
 
Sachin Jain, President, Forevermark, "We are thrilled to have Sophia here as she embodies the theme of the 7th Forevermark Forum - 'The Future is Now'. Technology has been the driving force for us at Forevermark and, which we know is evolving as fast as it is going obsolete. Through this year's theme we wanted to showcase a glimpse into everything the future holds, and Artificial Intelligence is definitely going to be a huge part of it."
...