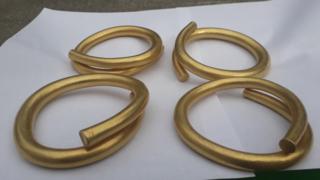 Image copyright
Norman Witherow
Image caption
Each object is around four inches in diameter and collectively they weigh about 1.7 ounces.
A farmer from County Donegal has discovered gold artefacts believed to be thousands of years old.
Norman Witherow uncovered the gold objects on Saturday when he was digging a drain in a field near Convoy.
The artefacts remained in his kitchen and car boot until Tuesday when his friend, who is a jeweller, told him that it needed to be reported.
Initial observations by staff from the National Museum of Ireland date the gold from the bronze age or earlier.
'Significance'
Mr Witherow admitted his initial reaction to finding the artefacts was underwhelming.
He said: "I couldn't figure out what they were, they were covered in clay and we had no idea if they were gold or even copper.
"We had no idea of the value and we definitely didn't appreciate their worth when we first discovered them."
Maeve Sikora, keeper of Irish Antiquities at the National Museum, travelled from Dublin on Wednesday to collect the objects.
The find was initially handed over to Donegal County Museum, who in turn reported the discovery due to its archaeological significance.
Image copyright
Caroline Carr
Image caption
"I personally don't think they are bracelets - they wouldn't even fit up my arm," says assistant curator of Donegal County Museum, Caroline Carr.
Caroline Carr, who is the Assistant curator of the Donegal County Museum, praised Mr Witherow for alerting her to his unearthing.
"Norman contacted the correct authorities and...