(Bloomberg) — Alrosa PJSC, the world's largest diamond miner by output, is increasing its marketing efforts and targeting new opportunities in gem cutting at a time when the market is showing signs of starting to stabilize.
The Russian firm, which typically hasn't promoted stones outside Russia, last year contributed $25 million to the Diamond Producers Association for marketing and may increase sponsorship this year, Chief Executive Officer Sergey Ivanov said. Alrosa also plans to focus more on cutting premium stones and may consider buying Russia's top polisher if it gets privatized.
Alrosa has traditionally focused on rough-diamond mining but is gradually changing its business after Ivanov, 37, became CEO a year ago. One of the rare steps it has taken in the past year include traveling the world to promote the auction of five gems cut from a giant diamond. While the industry has struggled with stagnant consumer demand, the market benefited from a stronger-than-expected end to 2017.
"DPA basically started to work at the end of the fourth quarter," and this was in time for Christmas sales, Ivanov said in an interview in Moscow, referring to the association it established with De Beers and other miners in 2015. "The first-quarter sales were very good."
That helped Alrosa reduce its 18 million carats of inventories by 30 percent from the start of the year to a seven-year low, as well as raising average prices by several percent, the CEO said.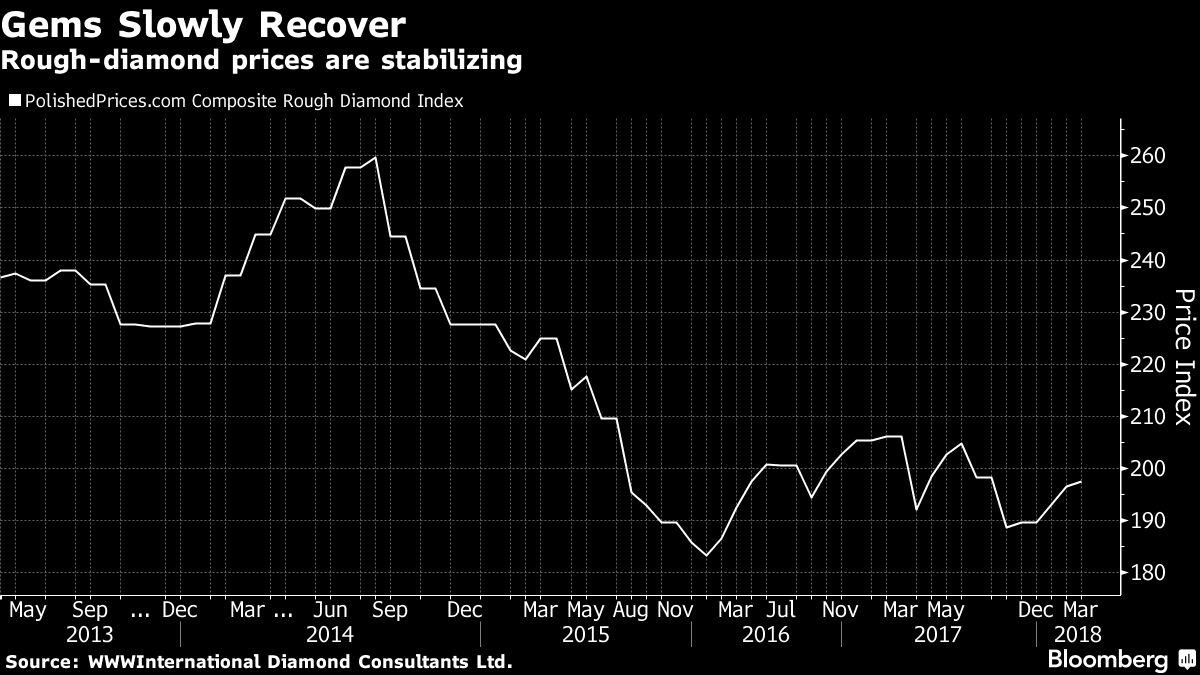 As part of its promotion strategy, Alrosa is working with researchers to show that so-called fluorescent stones, which are often sold at a large discount and shunned by younger buyers, in many cases have better color and luster than normal gems, Ivanov said. Alrosa has "a lot" of such stones at...