May 07, 18
by Albert Robinson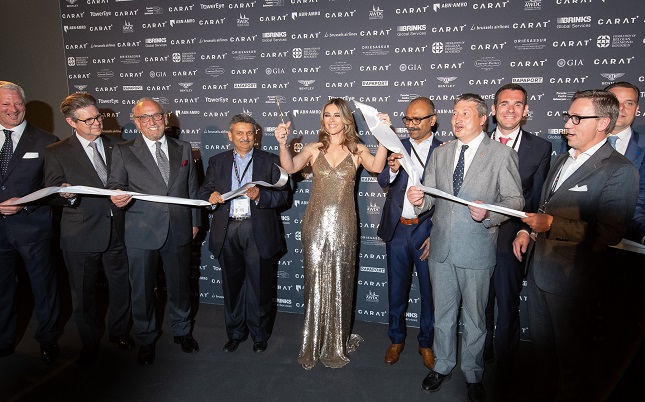 (IDEX Online) – More than 2,400 industry professionals attended the first day of CARAT+ on Sunday, far surpassing expectations, according to the organizers.
The highlight of the opening day on Sunday was model a
nd actress Elizabeth Hurley a
nd a surprise collection of vintage cars.   
Hurley, who wore Cascade collection jewels by CARAT+ exhibitor Roberto Coin, formally opened the show by cutting a ceremonial ribbon. She was then led on a guided tour of the show floor, visiting leading exhibitors and discovering some of the most exceptional diamonds, fancy color diamonds and colored gemstones on display.   
During a brief press conference, Hurley shared how her career as an actress and model has presented unique opportunities to wear exceptional high jewelry. She also highlighted a fascination, nurtured over her years in showbusiness, with vintage and one-of-a-kind diamond pieces.   
Hurley was also joined by Easyfairs CEO and Founder, Eric Everard, to reveal a very special show surprise – a procession of vintage and classic cars driven through the CARAT+ show floor. This unique sight – believed to be a trade show first for the sector.   
CARAT+ Event Director Filip Van Laere said: "The second edition of CARAT+ has so far been a phenomenal success and I look forward to seeing how the rest of our show progresses. I would like to thank the wonderful Elizabeth Hurley, all our exhibitors, visitors, special guests and team members who made CARAT+ Night the talk of Antwerp and the entire diamond sector."  
The inaugural day of CARAT+ 2018 saw a keynote speech from Holition CEO Jonathan Chippindale, followed by the results of a three-day Hack4Diamonds event, hosted by CARAT+...