April 26, 18
by Albert Robinson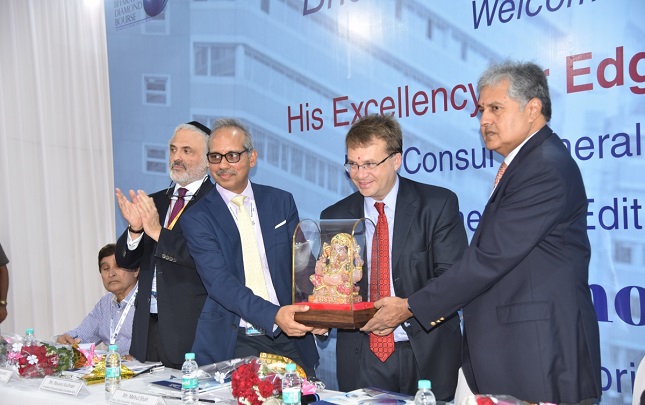 (IDEX Online) – Organizers of the first Bharat Diamond Week at the Bharat Diamond Bourse (BDB) in Mumbai, India, said the show exceeded expectations. The Bharat exchange is already planning the next edition of the fair which it says will be even bigger and feature new elements.
The first-ever Bharat Diamond Week was opened by US Consul General Edgard D. Kagan in the presence of BDB President Anoop Mehta, GJEPC Chairman Pramod Agarwal, MDMA President Mahendra Gandhi, Diamond Dealers Club of New York President Reuven Kaufman, and Rosy Blue (India) Managing Director Russell Mehta. The Belgian Consul General in Mumbai, Peter Huyghebaert, also visited the fair.
"This first Bharat Diamond Week more than lived up to our expectations," said BDB Vice-President Mr Mehul Shah, who heads the Diamond Week project. "We understood early on that there was going to be great interest, and that turned out to be the case with more than 1,000 visitors from India and across the world are taking part. We are planning for the next show to take place from October 8-9.
"Our aim is to help the smaller and medium-size firms by giving them a platform on which to show their goods to buyers from India and overseas. Many companies in the bourse who were not able to exhibit in the show marquee reported that buyers also moved around the exchange, visiting offices and doing business. I must thank all members of the organising committee, particularly Jay Parikh, and, of course, all the exhibitors and buyers who made a great effort to attend."
BDB President Mr Anoop Mehta said: "The Diamond Week really energised the whole Bharat Diamond Bourse. It created a lot...