April 25, 18
by Albert Robinson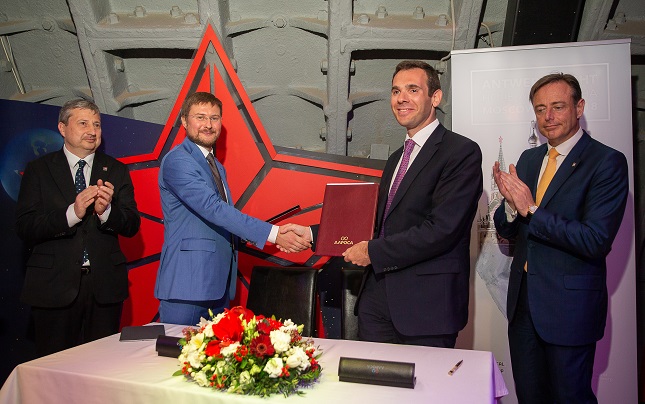 (IDEX Online) – The Antwerp World Diamond Centre (AWDC) has signed a cooperation agreement with ALROSA during the City of Antwerp's Mission to Russia.
"Leading this mission emphasizes AWDC's commitment to safeguarding Antwerp's position as the leading trade hub in the diamond industry, and signing this new cooperation agreement with ALROSA will expand and strengthen the privileged relationship between these leading organizations for years to come," the AWDC said in a statement.
 
AWDC CEO Ari Epstein and ALROSA CEO Sergey Ivanov signed the agreement at an official ceremony held in the presence of Bart de Wever, Mayor of Antwerp, and Jean-Arthur Regibeau, Ambassador of Belgium to Russia. The agreement aims to strengthen the relationship between the major industry organizations for years to come, the AWDC said.
 
"The objective of this new cooperation agreement is to improve the scope and efficiency of the ties between ALROSA and AWDC, and to commit to supporting one another across a broad spectrum of topics, from the open exchange of information to the promotion of joint marketing initiatives. It also seals their mutual commitment to protect the integrity and transparency of the diamond value chain by supporting the work of the World Diamond Council and the Kimberley Process, and reaffirms their efforts to improve consumer confidence in diamonds as a product."
 
AWDC CEO Ari Epstein said: "As the official representative of the Antwerp diamond industry, AWDC is committed to ensuring Antwerp remains the world's leading diamond trade center, and to defending the interests of its 1,600 companies at home as well as abroad, now and in the future. Rough diamonds are the second leading import product from Russia to...