The rise in U.S. Treasury yields appeared to stall on Tuesday, with the benchmark rate trading sideways after a selloff this week took it to within a whisker of 3 percent. Stocks in Europe struggled for traction following gains for most Asian markets as the earnings season gathered pace.
The yield on 10-year U.S. notes was little changed after the securities pared an earlier advance, while the dollar nudged lower after jumping on Monday to the highest level since January. The Stoxx Europe 600 Index pared an increase as traders assessed a mixed bag of corporate results, while U.S. equity futures posted a more solid jump. The yen retreated, helping spur Japan's Topix index to the highest in almost two months, and Chinese shares rallied on signs the government may ease off tightening measures if warranted.

Investors have been weighing the implications of climbing bond yields that were in part spurred by higher commodity prices and concern surrounding their inflationary impact on the wider economy. But volatility in interest-rate markets remains low and equity price swings are well off the highs seen earlier this year, indicating investors believe rising borrowing costs may not be enough to cause outsized pain to equities -- for now.
"For us it's more the reasons why we're seeing the move: better growth outlook, a little bit more inflation and faster rate hikes being priced in by the market," Kerry Craig, Melbourne-based global market strategist at JPMorgan Asset Management, told Bloomberg TV. "It should be reaffirming the fact that we see a global economy that's looking relatively healthy."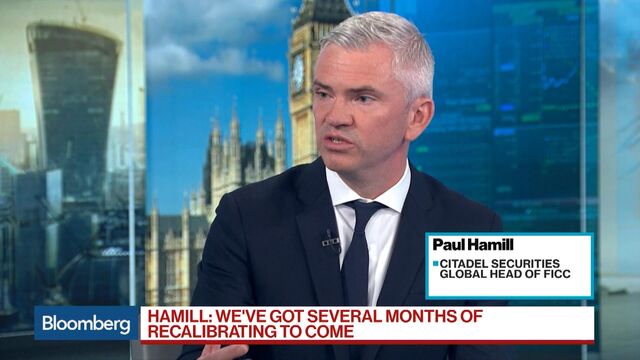 Citadel's Paul Hamill says investors aren't "shocked or surprised" about the rise in the 10-year Treasury...