(Bloomberg) — Top diamond miner De Beers increased prices for a second consecutive sale, according to people familiar with the matter, even as an alleged $2 billion fraud continues to send shockwaves though the industry.
De Beers lifted prices between 1 percent and 2 percent, according to the people, who asked not to be identified as the information isn't public. The company raised prices a similar amount in its previous sale at the end of February. While the sale is ongoing, the total amount sold is likely to be around $525 million, the people said.
A De Beers spokesman declined to comment.
The diamond industry has been shaken this year by a banking crisis in India, where about 90 percent of diamonds are cut and polished, after jeweler Nirav Modi was accused of fraud that hit lenders to the industry and reduced access to finance for buyers. However, the international market benefited from a stronger-than-expected finish at the end of 2017, and De Beers said earlier this year that the global economy, weaker U.S. dollar and U.S. tax cuts could be positive for demand.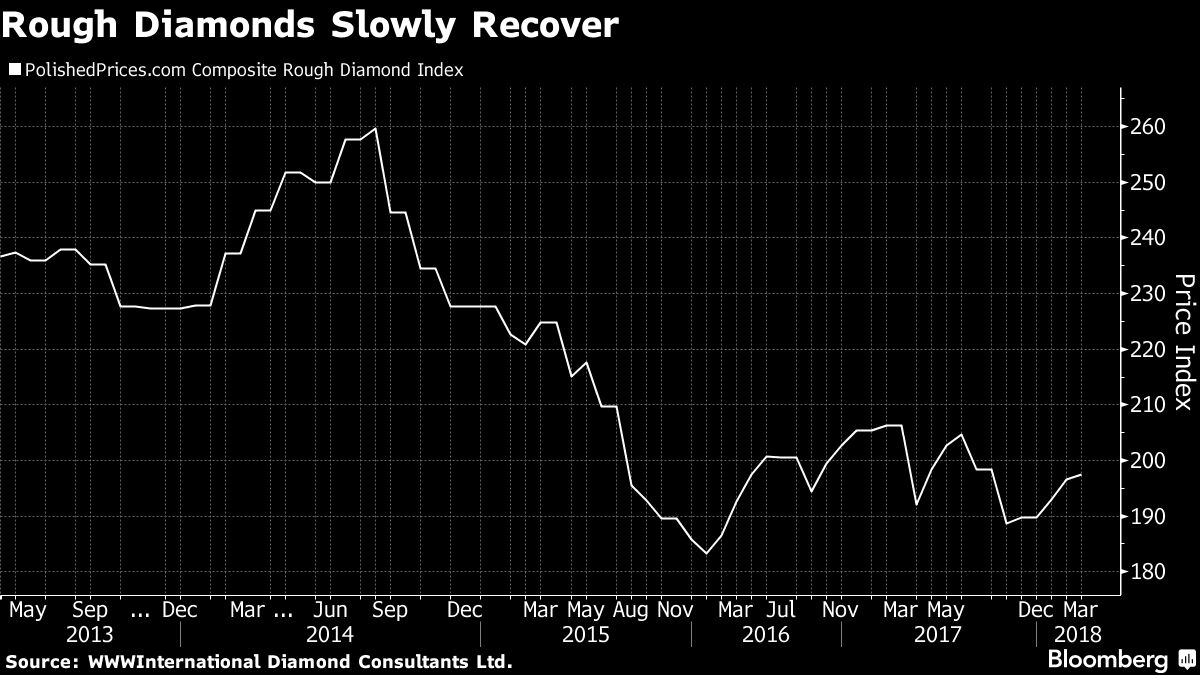 Alrosa PJSC, the second-biggest supplier, sold $560 million of diamonds in its March sale and said that there was higher demand for medium and large-size rough stones in the first quarter of the year. De Beers Chief Executive Officer Bruce Cleaver hinted in February that there could be scope for price rises this year.
De Beers sells diamonds at invitation-only sights held 10 times a year at its offices in Botswana. The company sets the prices and its handpicked customers, known as sightholders, are not able to negotiate.
(Written by Thomas Biesheuvel)