April 12, 18
by Albert Robinson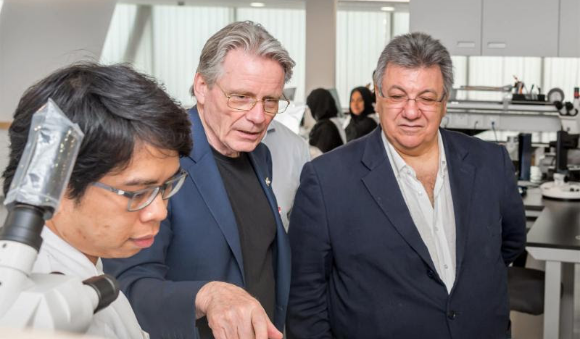 (IDEX Online) – CIBJO President Gaetano Cavalieri visited Bahrain, as the guest of DANAT, the Bahrain Institute for Pearls & Gemstones, during which he met with the leadership of the country's fast-developing gemstone and jewelry centre, and discussed the possibility of its hosting the CIBJO Congress in 2019.<?xml:namespace prefix = "o" ns = "urn:schemas-microsoft-com:office:office" /?>
Located on an archipelago on the northern flank of the Arabian Peninsula, the energy-rich Kingdom of Bahrain is home to a pearling industry that traces its history back 4,000 years. DANAT, the Bahrain Institute for Pearls and Gemstones, was formerly established in 2017, as a wholly-owned subsidiary of the Bahrain Mumtalakat Holding Company, the country's sovereign wealth fund.
Upgrading a 27-year pearl and gem-testing laboratory that, when it was formed in 1990, was the first such facility in the Middle East, under its new structure and with a state-of-the-art laboratory, it aims to become an internationally-recognized institute for third party verification services and scientific research into pearls and gemstones.
Bahrain was the first of the Gulf states to make the transition from an energy-based economy into one that is today anchored by banking, trade and tourism. Mumtalakat was created by a royal decree in 2006, with the objective of pursuing long-term value-enhancing opportunities for the country's state-owned, non-oil and gas-related assets. It established DANAT from the older Pearl & Gem Testing Laboratory to support the country's distinguished pearling history and heritage, as well as to tap into the rapid growth of the jewelry industry across the world, though the issuance of verification and authentication reports, continuous scientific research and analysis of pearls and gemstones, and the provision...