March 29, 18 by Albert Robinson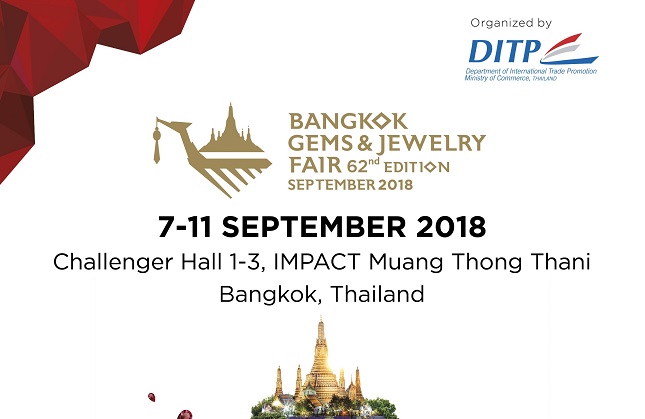 (IDEX Online) – The 62nd Bangkok Gems and Jewelry Fair 2018 is to be held from September 7-11, at IMPACT Muang Thong Thani, Bangkok, Thailand.<?xml:namespace prefix = "o" ns = "urn:schemas-microsoft-com:office:office" /?>
It will feature 900 companies in over 2,000 booths from selected domestic and overseas exhibitors.
Goods on offer will include gemstones (precious stones, semi-precious stones), rough stones, diamonds, pearls, precious metal, synthetic stones, costume and fashion jewelry, fine jewelry, gold jewelry, silver jewelry, display and packaging, equipment and tools, jewelry parts, and machinery.
The show organizer is the Department of International Trade Promotion, Ministry of Commerce, Thailand
Highlights of the show will include:
1. The Niche Showcase: Metro Men/ LGBT, The Moment, Heritage & Craftsmanship, Spiritual Power, Beyond Jewelry/ Jewelry Cross over with lifestyle products such as glasses, mobile phones, clocks, home décor such as crystal floors
2. The New Faces: Showcasing new brands and designers
3. The Jewellers: Designers from 23 brands that participated in the Talent Thai and Designers' Room project will be joining activities in the fair, from business matching activities, co-branding exhibition to jewelry design consulting services for jewelry businesses
4. Seminars and a fashion show...