July 31, 22 by John Jeffay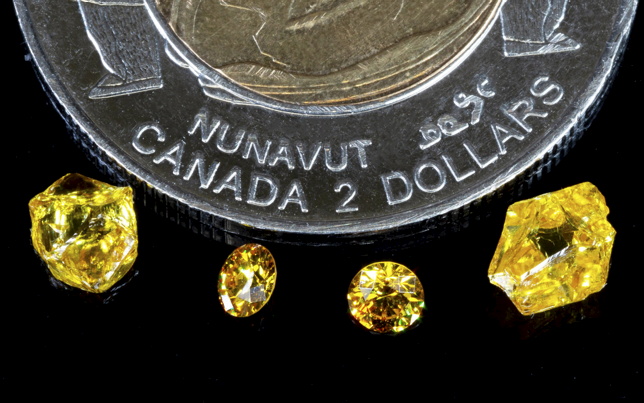 (IDEX Online) - North Arrow Minerals reports "encouraging" results in its search for high-value fancy yellow to orange yellow diamonds in Canada's Arctic Archipelago.

More than one in 10 of the diamonds bulk sampled last year from the Q1-4 kimberlite at the Naujaat Diamond Project are fancy color, it said.
Of those, 90 per cent are orange and 30 per cent are classified as either "intense" or "vivid" - the two highest color saturation classes and an important indicator of potential value.
Vancouver-based North Arrow recovered 99 diamonds greater than +9 DTC, weighing a total of 55.80 carats from 498 dry tonnes. The largest stones are 7.00-cts, 2.17-cts and 2.02-cts.
Ken Armstrong, president and CEO of North Arrow, said the bulk sample confirmed the presence of an important, potentially high value population of fancy orange and yellow diamonds in both the A28 and A88 units of the Q1-4 diamond deposit.
The Q1-4 kimberlite is was the largest and most diamondiferous discovered so far at Naujaat and hosts an estimated 26.1m inferred mineral resource of Type Ia - Ib fancy-colored diamonds. 
Pic courtesy North Arrow shows rough and polished orange diamonds from bulk sampling at Naujaat....