October 12, 20 by John Jeffay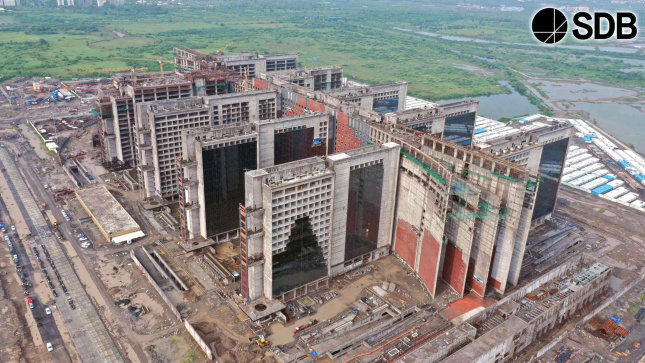 (IDEX Online) - The vast new bourse being built in Surat is set to attract $20bn of exports from Mumbai and create 200,000 job when it opens next year. 

The world's largest office building - covering a site larger than The Pentagon in the USA  - will boast nine 11-story towers, housing 4,400 offices and bringing merchants and manufacturers under one very big roof.
The Surat Diamond Bourse (pictured under construction), costing $355m, is due to be completed in March 2021.
Surat has long been the capital of diamond manufacturing, handling 90 per cent of all the world's gems, but the trade has been centered in Mumbai, a five-hour drive away.
The new bourse is likely to attract much of Mumbai's business, as well as trade from Israel and Belgium. 
Dinesh Nawadia, regional chairman of the GJEPC, the Gem & Jewellery Export Promotion Council, told the Dinesh Nawadia, regional chairman of Gem & Jewellery Export told India Times: "Many traders who have firms in Surat and Mumbai are likely to settle in Surat. It is possible to export diamonds directly from Surat with a bank guarantee now."...