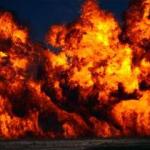 The hillsides are always brown in the land of fruits and nuts come autumn.  After baking away all summer long in the hot sun, the dense sage and chaparral covering the coastal hillsides and canyons are dry and toasty.  Though, before conditions get better, they must first get worse.
High pressure systems form over the high-elevation deserts of the Great Basin, between the Sierra Nevada Mountains and the Rocky Mountains, each fall like clockwork.  The pressure builds and forces the air to the south and west.  The warm, dry winds of Santa Ana then race towards Southern California where they scorch the earth.
The winds howl from the east, across the inland deserts, where they funnel through the mountain passes and then blast across the LA Basin and out to the Pacific Ocean.  As the winds conduit from high to low elevation they compress and rise in temperature at a rate of almost 30 degrees per mile of descent.  What's more, as the air's temperature spikes upward, its relative humidity plunges downward below 10 percent.
The already brown and parched vegetative cover is further convection dried by the Santa Ana winds to form a giant tinderbox.  Just one spark – from a downed powerline or a backfiring semi-truck – and the whole thing conflagrates into a blistering windblown wildfire.  At last count[1], there were 13 active wildfires blazing across the state.
From our perch in Long Beach, up on the bluffs near San Pedro Bay, and safely buffered by miles of concrete, yesterday's [Thursday's] temperature hit 94 degrees Fahrenheit…with a humidity of just 7 percent.  Yet out of these extremes a unique energy emanates.  And this year, more than others, the state's hoping this unique energy delivers a much needed boost. ...