August 28, 19 by Staff Writer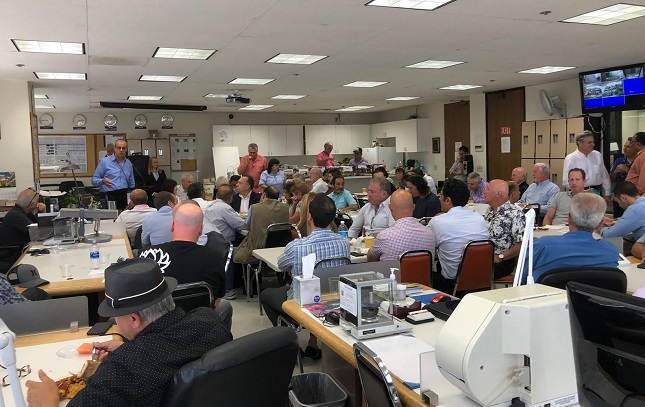 The Diamond Club West Coast, one of the three diamond bourses affiliated to the World Federation of Diamond Bourses (WFDB) in the USA, hosted a delegation from the GIA at its monthly luncheon meeting.
An impressive number of the DCWC membership came to the bourse on South Hill Street in Los Angeles to meet and listen to Phillip Yantzer, Vice President of Laboratory Operations at GIA.
Yantzer explained the changes experienced at GIA's laboratories across the world in 2019, and offered give a comprehensive update on GIA's laboratory activities. Among others, he discussed the changes in stone sizes taken in by the leading lab and the qualitative measures taken by GIA to maintain the high standard of grading set by the lab.
On their part, members didn't hesitate to ask pointed questions that included references to inconsistencies in GIA diamond grading  reports; perceived inconsistencies between stones emerging from GIA labs in different geographical locations; the results produced by automated grading technology opposite GIA's human graders; and the need to create more distinction between natural and lab grown diamonds.
Addressing the matter of GIA issuing  grading reports for lab grown diamonds, DCWC President Moshe Salem echoed the trade's sentiment that "GIA reports must go further to distinguish between natural and lab-grown diamonds, to allow the consumer to make the best decision that is aligned with their interest."
The attending audience, called a large crowd by the DCWC, seemed quite happy with the transparent and forthcoming nature of Yantzer's presentation and his responses to their many questions.
Another topic discussed was GIA's recent advancement of its Know Your Customer (KYC) initiative, as GIA is proactively pressuring all...