August 11, 19 by Staff Witer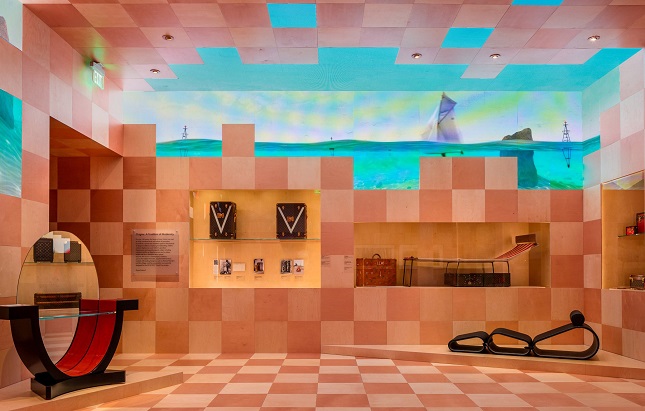 "De Zeen" website reports on a Louis Vuitton exhibition that showcases its collaborations with leading artists over the past 160 years, complete with custom bags and a tropical pop-up shop.
The Louis Vuitton X[1] exhibition can be seen at  468 North Rodeo Drive building in Beverly Hills, Los Angeles. It has 180 items from the French fashion house's archive on display.
The items are displayed in ten vibrantly coloured rooms. Some of the exhibition spaces are dark black with colorful glowing light designs, while others resemble crisp white galleries or museums with glass-fronted displays.
One exhibit room features checkerboard walls, ceiling and floors in a dusty rose colour. Chunks of the room depict a turquoise ocean with a boat, dock and cliffs. Another space has white walls covered with Louis Vuitton in black font, layered with dozens of colourful contemporary paintings.
Included in the exhibition are six Louis Vuitton Monogram leather duffle bags that have been reinterpreted by renowned artists and designers, including the late Karl Lagerfeld and Zaha Hadid, as well as Rei Kawakubo, Yayoi Kusama, Cindy Sherman and Frank Gehry.
Another highlight of the exhibit is Louis Vuitton's latest Artycapucines collection, a collaborative project with six contemporary artists who have custom designed Capucines bags for the label. Sam Falls, Urs Fischer, Nicholas Hlobo, Alex Israel, Tschabalala Self and Jonas Wood each created a design.