Seattle House prices fall year-over-year, as do New York & San Francisco Bay Area condo prices. Los Angeles, San Diego tick up. Denver, Boston hit new highs. Las Vegas, Miami, Phoenix aspire to their crazy peaks of Housing Bubble 1.
Year-over-year declines have spread to house prices in the Seattle metro, after having cropped up in condo prices in the San Francisco Bay Area and the New York metro in prior months, according to the CoreLogic Case-Shiller Home Price Index[1] released today. These are the first such declines since Housing Bust 1 that followed our fabulous and crazy Housing Bubble 1. In many other markets, year-over-year price gains continued to wither away. So here we go.
Seattle House Prices:
Prices of single-family houses in the Seattle metro ticked up 1.0% in May from April, which was less than half the seasonal increase last year. And so the index fell 1.2% from May last year, the first year-over-year decline since Housing Bust 1.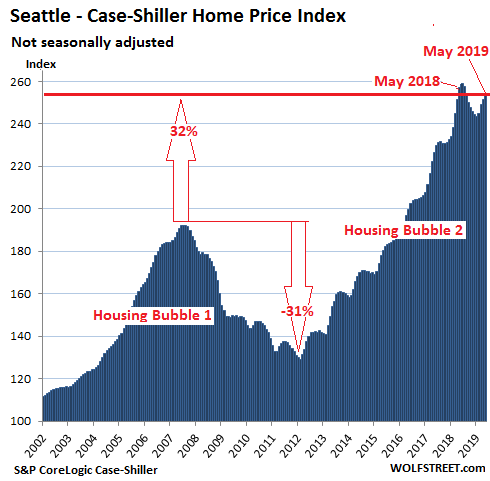 The Case-Shiller Index is a rolling three-month average that is released with one-month delay; today's release represents closings that were entered into public records in March, April, and May.
The index was set at 100 for January 2000; a value of 200 indicates prices have doubled since January 2000. Every housing market on this list of the most splendid housing bubbles in America has an index value of over 200 in its history, either during Housing Bubble 1 or during Housing Bubble 2. This is the minimum requirement to make this list.
New York Condo Prices:
The Case-Shiller Index, which in most cities only covers single-family houses, also covers condos in a handful of big condo markets. The index for condos in the vast...