July 29, 19 by Staff Writer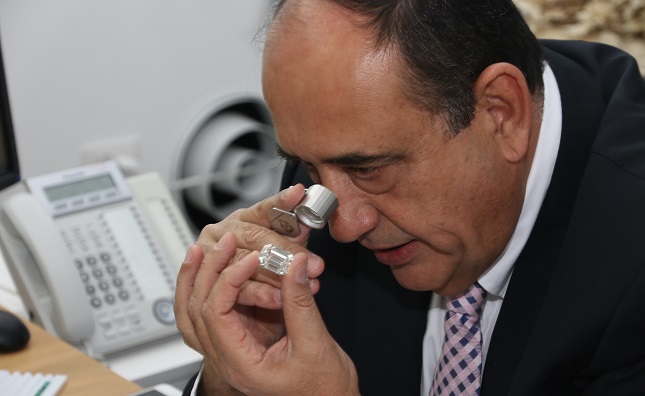 Avraham Eshed, a veteran Israeli diamond manufacturer, was named an Israel Diamond Industry Dignitary for the year 2019. The biennial Israel Diamond Industry Dignitary Awards aim to recognize and honor those men and women who have advanced and promoted Israel's diamond industry, at home and abroad. Eshed, who is both a manufacturer of large diamonds and high-value colored gemstones, follows in the footsteps of his late father Eliyahu Eshed, who was named an Israel Diamond Industry Dignitary in 2006. Avraham Eshed was honored together with several other distinguished colleagues, during a ceremony on Sunday, July 28, at the Diamond Theater, adjacent to the Israel Diamond Exchange complex. [1]
Eshed is unique in the Israeli diamond and gemstone landscape, as he developed his equally successful diamond and colored gemstone businesses in parallel. More than 30 years ago, he stood at the cradle of Sarine Technologies and was instrumental in the transition and implementation of its manufacturing and decision-making technologies in the diamond industry.
As a second-generation diamond manufacturer, Eshed pays tribute to those who, against all odds, established a diamond industry during the 1930, before the establishment of the State of Israel. "Al most 90 years later, we stand on the shoulders of giants, those pioneers who literally built the Israel diamond industry with their own hands. My father Eliyahu was among those early pioneers who set up a polishing plant in Netanya," he recalled.
Eshed joined his father in his polishing plant in the second half of 1960s, after completing his army service. At that time, they employed more than 30 cutters and polishers. A few years later, he joined the prestigious Tarshish company, where he was introduced to the rich world of...