By Pam Martens and Russ Martens: June 28, 2019 ~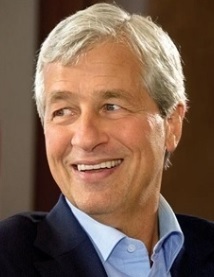 Jamie Dimon, Chairman and CEO, JPMorgan Chase
How many second chances should a criminal recidivist get? JPMorgan Chase has logged in guilty pleas to three criminal felony counts in the past five years; it has a criminally-charged precious metals trader singing to the Feds currently as JPMorgan admits in regulatory filings that it's under a new criminal investigation in that matter; the bank has paid $36 billion in fines for wrongdoing since the financial crash, including $1 billion for trading exotic derivatives in London with bank depositors' money and losing at least $6.2 billion of those depositor funds (the London Whale scandal). And in just the past year it has proven that it's "game on" for more regulatory fines and illicit profits. (See Could JPMorgan Chase Be Hit with a Fourth Felony Count for Rigging Precious Metals Markets?[1])
Despite all of this, yesterday the Federal Reserve announced[2] that it had given JPMorgan Chase a second chance at passing the regulator's stress test.
According to the announcement from the Fed, all 18 mega banks it submits to stress testing had passed the second leg of its stress tests known as the Comprehensive Capital Analysis and Review (CCAR). It did require one bank, Credit Suisse, "to address certain limited weaknesses in its capital planning processes."
But JPMorgan Chase, along with the much smaller and zero-felony-count Capital One, were only able to pass the stress test because the Fed allowed them to resubmit their plan a second time. (That's like failing your licensing exam on Wall Street that you have months to prepare for and then being allowed to take an open text exam.) The Fed said...