June 09, 19 by Staff Writer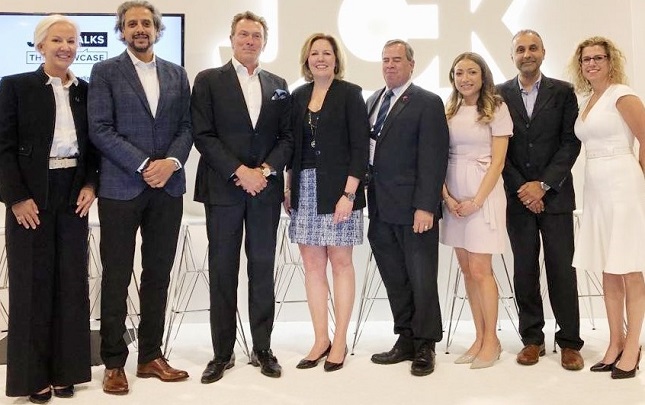 The Responsible Jewellery Council (RJC) made its mark at JCK Las Vegas with a panel discussion on responsibility and trust in the jewelry supply chain. The panel's members were: [photo - from left] Iris Van der Veken, Executive Director at RJC; Raj Metha, Director at Rosy Blue NV; Erik Jens, CEO at LuxuryFintech.com; Gina Drosos, CEO at Signet Jewelers; Jeff Corey, Owner of Day's Jewelers; Feriel Zerouki, Senior Vice President of De Beers Group, and Shekhar Shah, Director of Real Gems. The discussion was moderated by Brandee Dallow, RJC's Business Development Lead in North America.
In their contributions, the panel members made it clear that the jewelry industry cannot take its future for granted. Consumers can easily turn away from purchasing jewelry. After all, it is a luxury product that is not really 'needed.' However, to keep jewelry relevant, visible and desirable, trust and transparency are sine-qua non.
In its post-Vegas report, the RJC emphasized that "product integrity and disclosure across the value chain to protect consumer confidence is the most important issue. When a consumer walks in a store or buys online, he or she expect brands to be sustainable."
At the panel, an emphasis was placed on the importance of the United Nations' Sustainable Development Goals (SDGs) and their integration into the supply chain.
The RJC encourages its members and the industry at large to ask these questions:
Are the SDGs being integrated into your business strategy? 
Which SDGs are the focus (materiality exercise) for business?
What are the challenges of incorporating the SDGs into business strategy, the level of communication and measurement on SDG impacts?
Among the...