May 17, 19 by Ya'akov Almor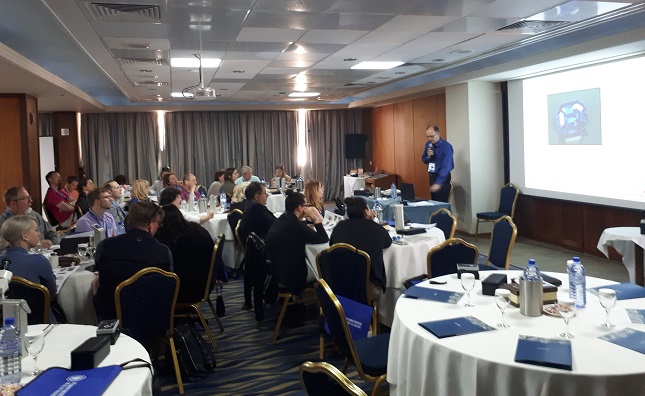 The 5th Mediterranean Gem and Jewellery Conference kicked off today at the Ajax hotel in Limassol, Cyprus, with two Gem Workshops. The morning session had Opal as its topic and this conference's first workshop was presented by Gail Brett Levine of the National Association of Jewelry Appraisers (NAJA) and Travis Lejman, both from the USA.
The afternoon session was presented by conference co-chair Branko Deljanin of the Canadian Gemological Laboratory (CGL-GSR Canada) of Vancouver, BC, Canada. Deljanin began his workshop with a quick over view on ruby, sapphire and emerald sources, as well as on the most common treatments of these various gem materials.
Then he got the more 70 participants to work to examine many dozens of gemstone samples, by means of hand-held tools, microscope and a choice of advanced gemological instruments. During this three-hour working session, each participant had a chance to learn, hands-on, how to identify the wide variety of treatments these gemstone species are often subject to. Deljanin was assisted by Angelina Yip of CGL-GRS Canada and Elena Deljanin who runs Gemmological Research Industries Inc., Canada.
 "These workshops are at the heart of what we do as gemologists," Travis Lejman said. "And because we're all in the same room together, the exchange of knowledge and experience is not only vertical, from instructor to participant, but also horizontal, i.e. among us as practicing gemologists in our own work places, labs and countries. That is what makes this conference so special and multi-faceted!" he said.
IDEX Online & Magazine is a chief sponsor of the 5th Mediterranean Gem and Jewellery Conference....